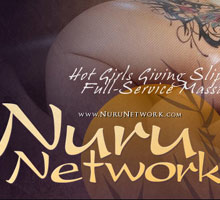 Nuru Network
August 25th, 2012 - By handjobhubster
Reviewed

Site Details

Videos:

680 Videos

(Average Length 20 minutes)

Watermarks:

Yes

(Large-Sized)

DRM Protection:

No

(No license restrictions)

Pictures:

180 Picture Sets

(w/ 100 Pictures Per Set)

Bonus Sites:

5 Bonus Sites
The Pricing
Monthly:
$29.95 for 30 days
3 Months:
$68.95 for 90 days
1 Year:
$95.40 for 365 days
Site Pros
Exclusive Content
Many Bonus Sites
Zipped Photo Sets
Site Cons
No Advanced Search
No Model Bios
Cant Leave Comments
Our Review

of Nuru Network

NuruNetwork.com is a unique mega site that specializes in slippery massages that result in all kinds of happy endings. In fact, the word nuru actually means slippery in Japanese. The gel used for the massages is colorless, tasteless, and an incredibly slippery substance made from deep seaweed. During the erotic massages the masseuse will slide her entire nude body over the man's nude body. Every video on the website features a nuru massage that focuses on the man's penis. The handjob fans will have plenty of action to watch as there are many tugs that take place during the showers before the massage and during the massages themselves. There is something for everyone on this website that offers over 60 different content categories.

There are a total of 136 girls on the website at the time of this writing that all star in at least one nuru massage video. There is a nice mixture of amateur girls and well-known pornstars that are featured in the videos. Asian women such as Jessica Bangkok, Miko Sinz, Asa Akira, and many others all give their own unique nuru massages. There are women with big tits like Kortney Kane, Amber Ashlee, and Briana Blair who also give great body to body massages. You will find girls of all races, body type, hair color, and age on NuruMassage.com. All of the girls are attractive and end up with shiny and oily skin rubbing their nude bodies against the men they are massaging.

The tour offered by NuruMassage.com is absolutely amazing. You are able to view almost every girl on the website in the model directory that lists them in order of highest rating. You can see every single photo set that features the title of the set, a large preview image, the number of pictures in the set, and the related video. You also get access to all 680 videos that come with a short preview teaser to give you an idea of what the video is about and the high quality. NuruMetwork.com even puts the entire website's stats on the front page so that you know exactly how many girls, videos, and pictures are available before joining.

There are details about every video on the website on the scenes pages. The stars of the video, a description, and keywords are all clearly displayed before choosing to view the video. Also offered are the video length, size, rating, upload date, and even the images associated with the video. If that wasn't enough information for you, NuruMassage.com sorts the videos into niche categories. There are an impressive number of handjob videos which is currently at 680. There are also other interesting categories such as ball massage, foot massage, cock milking, and titjobs.

Every video available at NuruNetwork.com is in high definition. But, if you don't have the disk space or bandwidth available for such large movies there are other formats that consume less. The videos are lengthy with some well-over 20 minutes long. You are able to download the videos to your hard drive to keep or you also have the option of streaming the videos. Even portable devices can stream the videos with an embedded flash player. The video section is very well-organized and selecting your favorites is easy.

There are picture sets available that mirror each video on the website. All of the images are large and look like they have been shot by a professional. The newer photo sets offer high resolution images that are incredible. There are currently over 54,000 images on the site that are all easily navigated and well-organized. You can download zip files of each image set that is yours to keep just for being a member. If you're a fan of pictures you will definitely love NuruMassage.com.

Another amazing feature available to you before you even become a member is being able to see the entire network of sites and their available content. When you purchase a membership to NuruMassage.com you also get memberships to AllGirlMassage.com, Massage-Parlor.com, and SoapyMassage.com. The sites are all of the same high caliber and offer impressive video and picture catalogues just like NuruMassage.com. Visit the network page to look through an amazing assortment of high quality videos that you will have access to when you become a member.

Updates to NuruNetwork.com are made once a week and bring a new high definition video with a new high resolution photo set. That's just the update made to this site; don't forget about the updates across the entire network. Both AllGirlMassage.com and Massage-Parlor.com also offer weekly updates bringing the video and picture updates to 3 times a week. When considering the stunning content and the length of the content, it is no wonder why so many people remain members for such a long period of time.

Customer support is even offered to members and guests that have questions or concerns. This support is available 24 hours a day and 7 days a week. It's easy to tell that this company truly cares about their customers through the constant updates, the high quality content, the bonus material, the amazing tour, and the incredible customer service. Enjoy your lengthy stay as a member of NuruMassage.com!